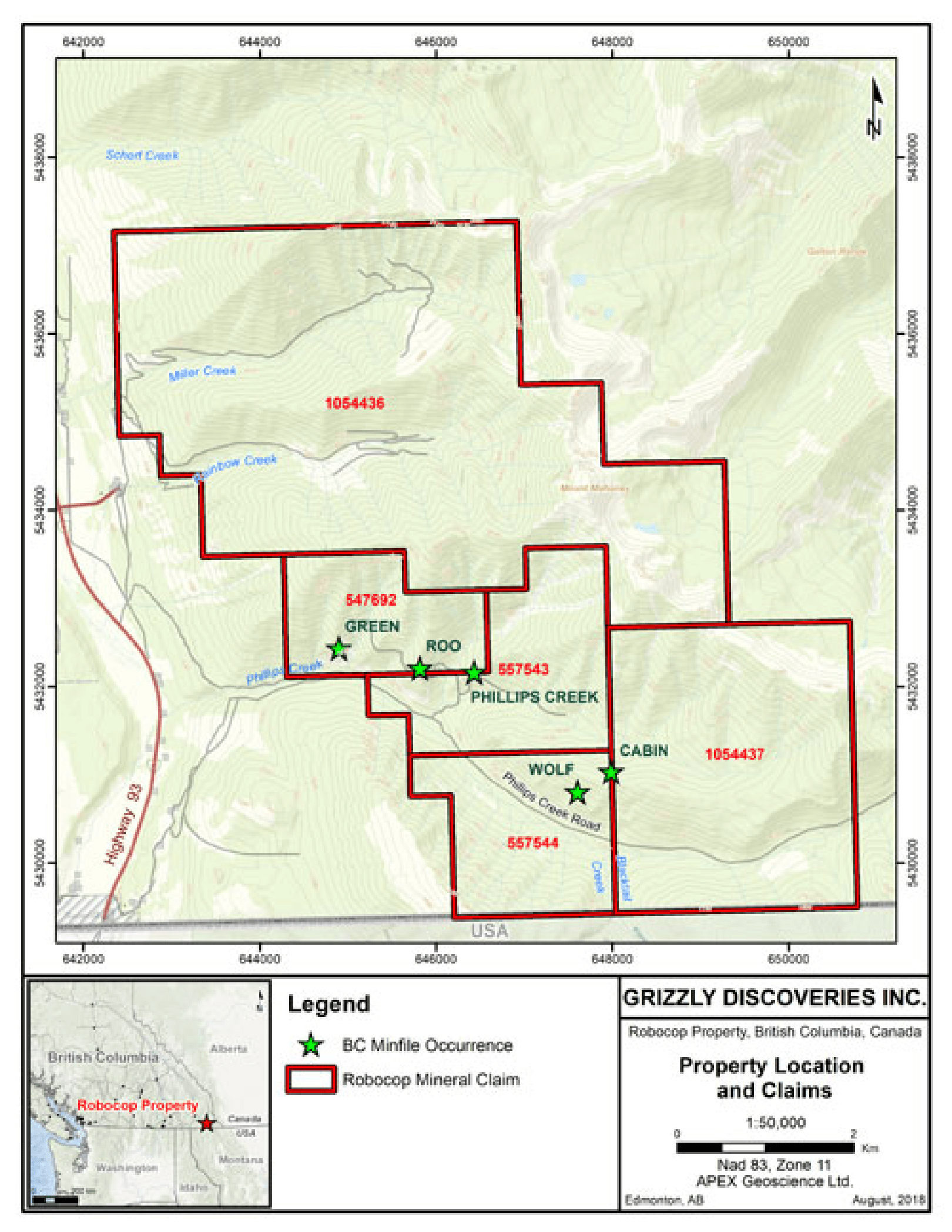 ROBOCOP
On May 25, 2018, the Company completed the acquisition of five mineral claims in British Columbia (the "Robocop Property") pursuant to a letter of intent ("Robocop LOI") announced March 27, 2018 and a definitive agreement dated May 11, 2018 ("Robocop Agreement") with several arm's length individuals ("Vendors").
Under the terms of the Robocop Agreement, Grizzly acquired a 100% interest in the Robocop claims, subject to a 3% net smelter royalty ("NSR"). The Company has the right to purchase 2/3 of the NSR for $1,500,000 within two years after the delivery of a positive feasibility study.
The Company issued a total of 2,000,004 units as consideration for the Robocop Property, where each unit consisted of one common share of Grizzly and one common share purchase warrant exercisable at $0.14 within three years of the date of issuance.
The Robocop Property is located in southeastern British Columbia, approximately 45 kilometres (km) south of Fernie and 70 km southeast of Cranbrook, and is immediately north of the Canada-USA border. The Robocop Property is comprised of 5 mineral claims totalling 5,864 acres, and is located east of Grizzly's Greenwood Property in southeastern British Columbia.
Areas with significant historic cobalt-copper-silver (Co-Cu-Ag) in soil anomalies have been identified on the Robocop Property. Additionally, historic drilling during the 1990's (Teck Explorations Ltd.) and early 2000's (Ruby Red Resources) has yielded grades of up to 0.18% Co, 0.28% Cu, 4.1 parts per million (ppm) Ag over 1 m core length (Pighin, 2009) and 0.134% Co, 1.19% Cu and 33.8 ppm Ag over 1.23 m core length (Thomson, 1990) for individual core samples. The Co-Cu-Ag mineralization is hosted in Sheppard Formation and is classified as Proterozoic sediment hosted mineralization. Grizzly believes that significant potential exists to expand the known extent of the known Co-Cu-Ag mineralization on the Property and further exploration is warranted.
During 2018, Grizzly mobilized a field crew to the Robocop Cobalt-Copper-Silver (Co-Cu-Ag) project near Roosville in southeast B.C. The field crew, provided by APEX Geoscience Ltd., conducted and completed a two-week surface exploration program in advance of a follow-up airborne geophysical survey.
ROBOCOP LOCATION MAP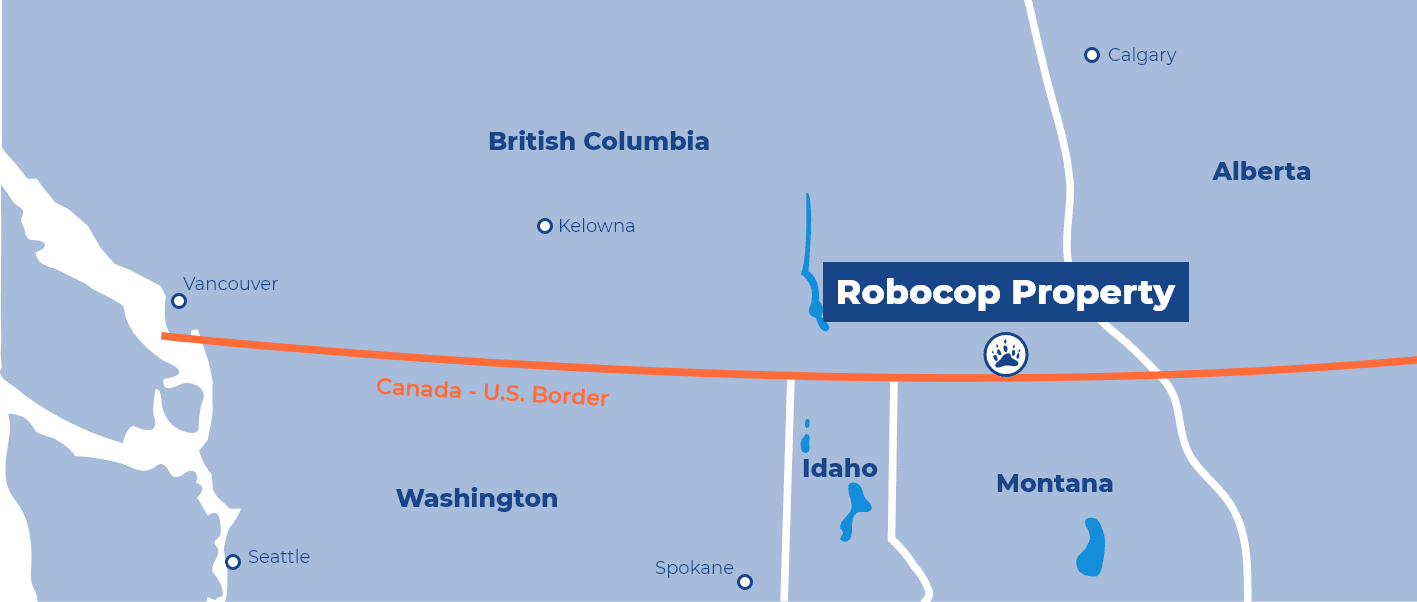 Highlights for the planned Robocop Property work program include:
Cu-Co mineralization has been identified and sampled 3.8 km to the northwest (Miller Creek) and 3.2 km south (Phillips Creek South) of the main Robocop showings, demonstrating lateral continuity of anomalous Cu-Co mineralization within the Sheppard formation sediments.
Miller Creek showings yielded up to 1.41% Cu, 0.62% Cu and 0.015% Co from three separate grab samples from sulphide bearing Sheppard Formation sandstones
Phillips Creek South returned up to 0.09% Cu and 0.01% Co in limited rock grab sampling from an area with no history of anomalous Cu-Co mineralization
Sampling the main Robocop showings confirmed previous anomalous results with grab samples returning up to 1.46% Cu and 0.036% Co in two separate samples in the area of the historic trenching and drilling.